CIs under siege edition
Lawmakers take aim at the campus Chinese centers
A New Chill for Confucius Institutes
China's plan: To "optimize" the spread of Confucius Institutes, the controversial language and cultural centers it funds on foreign university campuses.
America's rejoinder: Not so fast.
Just days after China's Central Committee put out a document saying that Confucius Institutes will remain a key government policy, the U.S. Senate held a highly critical – and notably bipartisan – hearing on the centers. (You can watch it here.) Here's what you need to know:
There was none of that spy stuff. The hearing, called by the Permanent Subcommittee on Investigations, was largely free of the accusations of espionage that have colored so much of the debate about U.S. colleges' relationships with China. Instead, the senators focused on issues of academic freedom and university control – noting, for example, that a just-released GAO report found that half the agreements setting up institutes contained confidentiality clauses and questioning whether the presence of the centers squelch discussion of hot-button topics like Tibet or Tiananmen Square. This critique is very much in line with that of faculty detractors, and it may have more legs.
Lawmakers also pointed out that China killed a similar American attempt at soft diplomacy, shutting down 29 American Cultural Centers on Chinese campuses or blocking them from opening. The issue of reciprocity hasn't previously been part of the discussion of Confucius Institutes.
Senators suggested they could take action to close the institutes. Maybe, although getting something, anything, done in the current Congress is difficult. But they put the Departments of Education and State, who testified at the hearing, on notice that they expect them to exercise far greater oversight of the centers and the colleges that host them. A separate report, issued by the subcomittee, calls on the Justice Department to review whether Confucius Institutes should be required to register as foreign agents.
Don't expect legislative scrutiny of CIs – and more broadly, of colleges' Chinese connections – to let up. At the Conservative Political Action Conference, Senate Judiciary Chairman Lindsey Graham says he also plans to take up the issue:
That said, the end game here could be that college administrators decide Confucius Institutes are not worth the hassle. At several points during the hearing, Sen. Rob Portman, who heads the subcommittee, observed that 10 centers have closed since the panel began its probe, seemingly drawing a link between the increased attention and colleges' actions. Lawmakers last summer attached a rider to a defense spending bill, prohibiting colleges with Confucius Institutes from using federal funds for Chinese-language training. While I've talked with several institutions that have applied for waivers from the requirement, at least one, the University of Rhode Island, has already announced it would close its center rather than risk losing U.S. government funding.
In my conversations with CI directors and with international-office administrators who oversee the centers, I've walked away with a sense that they're under siege. One vice provost told me:
"You need to demonstrate the Confucius Institute adds to the core value of the university. If you can't do that, it's just not worth it in the president or provost's brain."
That's my take – what's yours? Leave a comment or tweet at me @karinfischer.
A Curious Case of Disinterest
What if you release a global university rankings and no one pays any attention? Well, that's what happened last week when QS put out its World University subject rankings, in the United States, anyway. (Google tells me it got fairly heavy coverage in Malaysia, by comparison.) The national shrug comes despite what would seem like a pretty grabby finding: That American universities lost almost 20 percent of their top-ranked academic departments in the past year.
There are many quibbles to be had with the methodology of QS and other global rankers, which often rely heavily on squishy metrics like reputation. But that's a topic for another day. After all, there are methodological critiques to be made of U.S. News & World Report's annual list of best colleges, yet it's paid plenty of heed.
As I said, QS and its cousins are closely watched overseas. I've met "rankings professionals" at universities throughout Asia and Australia, administrators whose job is to essentially reverse-engineer rankings data to spot areas for improvement. Some countries use rankings to award preferential funding to universities, while others rely on them when striking international partnerships. And prospective students worldwide turn to rankings when trying to make decisions about where to study.
Why is it, then, that Americans yawn at international rankings? When higher education is so globalized, is there a consquence to ignoring them? Let me know what you think at latitudesnews@gmail.com.
Around the Globe
In a news conference following their summit, President Trump defended Kim Jong-un in the case of Otto Warmbier, a University of Virginia student who died after more than a year in North Korean custody. "He tells me he didn't know about it, and I take him at his word," Trump said of the dictator. "I don't believe he would have allowed that to happen." After criticism, including from Warmbier's parents, the president claimed he was "misinterpreted":
The parents of an American student killed while studying in Rome have reached a settlement with John Cabot University.
A pro-democracy dissident once fired by Peking University now is one of President Trump's biggest boosters (a turn of events I never would have predicted when I first met Xia Yeliang).
More than half of Australians favor limiting the number of international students allowed to study in the country, according to a new poll.
Could higher ed become compulsory in Mexico?
A professor accused students of cheating. They said he targeted them because they were Chinese. Now the University of Maryland is investigating.
The Center for Immigration Studies, a group that favors limiting immigration, has published a study that says immigrants with degrees from abroad are "less skilled" than American degree holders.
Read This!
The global system of higher education is predicated on growth. So what happens if enrollments worldwide are flattening? That's the spectre Alex Usher raised in a recent Twitter thread. Usher, a Toronto-based educational consultant, shared the results of some preliminary research showing a slowdown in postsecondary enrollments across the 50 countries, give or take, with the greatest number of students:
After Usher posted his findings, Brendan Cantwell, a professor at Michigan State University, weighed in with a thread of his own, positing what could be behind the falloff. Is it a combination of demographics (across much of the developed world) and a lack of capacity (in the global South), he asked. Or have the social dynamics that have long fueled demand for higher education changed?
Alex Usher
@AlexUsherHESA
1/ So, we've been developing a database of the "top 50" countries in Global HE. It's mostly the countries with the largest enrolments, with a smattering of smaller countries that seem interesting to us from a policy perspective. Collectively, they cover 90%+ of global enrolments
If you like your higher-ed Twitter heavy on the wonk (and with a side of snark), Brendan and Alex are good follows.
Meanwhile, if you like what you see here, share it online or recommend it to a friend!
And finally…
I just finished watching Russian Doll, which, while rave-worthy, is international only in name. But it's the first show to begin to fill The Americans-sized hole in my heart, which, let me tell you, is very, very large. I loved many things about that show – everything, actually, except the ridiculous subbing of Brooklyn for D.C. – but I especially appreciated the care its creators took with its Russian characters, even hiring native speakers to script scenes in Russian, despite the fact most of the audience would never know if they got the idioms right.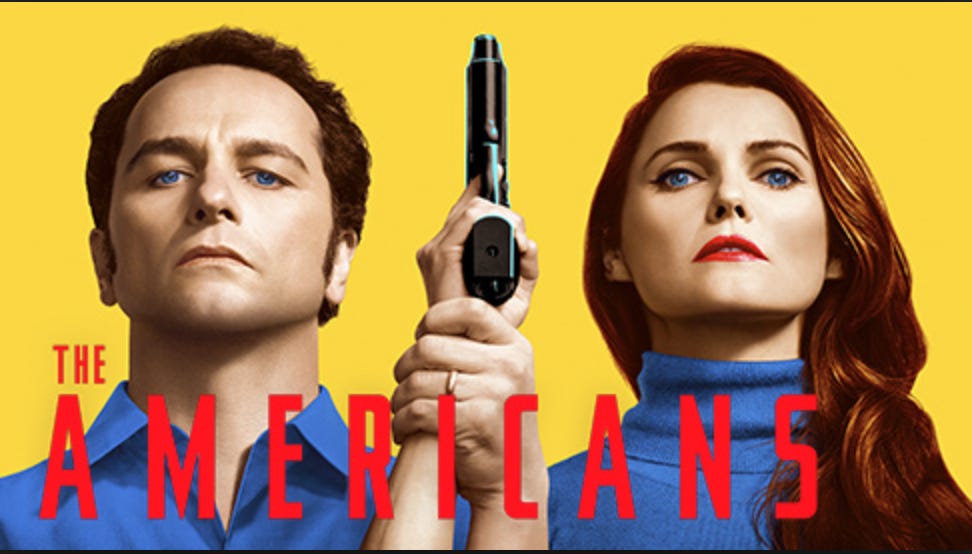 Do you have favorite tv shows or movies that you think do a good job of portraying another country or culture? Or, heck, just recommend something you're really enjoying – as I said, the pop-culture hole in my heart is huge!
'Til next week – Karin
For the best international education news and analysis, please subscribe to latitude(s). In this startup phase, I'll be making the newsletter free; in the future, I'll ask for a small fee to support quality journalism.