Fake college, real news edition
Happy Year of the Pig, everyone!
A Student-Visa Sting
The college had a Twitter feed, a president who spoke four languages, and programs in accounting, information technology, and supply-chain management, among others. It even had a Latin motto that translated to "knowledge and work."
But the students who enrolled at the University of Farmington were likely looking for the latter more than the former – it turns out the college was just an elaborate sting set up by the Department of Homeland Security to snare foreigners circumventing the student visa system to illegally work in the United States.
Federal officials brought an end to the operation last week, arresting eight recruiters who are accused of bringing in at least 600 would-be students. It's has gotten a great deal of attention both here and in India, where most of those recruited were from. On Saturday, I went on NPR's Weekend Edition to talk about the "pay to stay" case.
The details are certainly cinematic – someone compared it to Argo, the phony science fiction film invented to help get hostages out of Iran and later turned into a movie itself – but I fear some of the larger issues are getting lost:
This isn't (necessarily) about President Trump, though getting tough on immigration has been a hallmark of this president. Homeland Security ran a markedly similar sting, the University of Northern New Jersey, under President Obama. And the Farmington operation began in 2015.
Yes, the feds faked the University of Farmington. But there are real fake universities out there, looking to exploit loopholes in the student-visa system. Along with two colleagues, I did a several-month investigation, uncovering sham universities – we called them visa mills – across the country that brought in thousands from abroad and took in millions of dollars. A Buzzfeed report found similar abuses.
There are certainly unscrupulous operators who take advantage of the deep desire of many around the world to come and work in the United States. But the fact is, much of the problem is the result of loopholes in, and lax enforcement of, the U.S. system. When Congress created the current student-visa program, after the September 11 terror attacks, they didn't include a requirement that colleges enrolling international students be accredited – a condition of eligibility for federal financial aid and other government programs. When we showed up the supposed oversight agency for one of the sham universities in our reporting, it was an auto-body repair shop.
What's more, efforts to shut down violators are historically underfunded and haphazard. While we found people openly talking about visa mills on online forums, the same colleges continued to get government approval. Eventually, though, officials did go after some of the sham schools we identified, and these two recent sting operations would suggest more of an enforcement mindset.
And the most important point of all: None of this suggests that the student-visa system is broken. The vast, vast majority of international students come to the United States for, in the lingo of my favorite guilty pleasure, the right reasons – they want to study, to gain valuable experience, to make American friends. (The Farmington students may be another matter; although some have claimed they were unaware of the scam, it's hard to believe that once they saw the university's small basement office they thought they were really getting a degree.)
Years after 9/11, I still regularly hear people assert that the hijackers came into this country on student visas, a belief that's as mistaken as it is persistent. One fear I have about cases like Farmington is that they unfairly tar international students as a whole.
Have thoughts about student visas or other issues you think I should be reporting on? Let me know in the comments, or tweet me @karinfischer.
Around the Globe
Legislation has been introduced in Congress to block President Trump's travel ban, forbidding any federal funds or fees to be used to implement the executive order.
When the Supreme Court upheld the ban last fall, the majority opinion cited a provision in the executive order that would permit citizens from the blacklisted countries who met certain, mainly humanitarian, criteria to come to the United States. But between December 2017 and May 2018 just 2 percent of visa applicants from the banned countries got a waiver. (A third version of the order separately carved out an exemption for students from Iran.)
The annual threat assessment from U.S. intelligence agencies published this week once again warned that American universities are vulnerable to Chinese espionage:
"We assess that China's intelligence services will exploit the openness of American society, especially academia, and the scientific community, using a variety of means."
A district court judge is allowing a case challenging a Trump administration change to student visa policy to proceed. But the injunction applies only to the individual plaintiffs; for everyone else, the new "unlawful presence" policy goes into effect February 5. NAFSA has a good, plain English backgrounder.
This week in China spy rhetoric: A former CIA agent told CNN that every Chinese graduate student who studies in the U.S. is briefed by the Chinese government before they leave and when they return. Really, all 131,000? Fellow China watchers were also skeptical of that claim:
Read This!
What happens when you return to a country you've never known? That's the central question of this California Sunday Magazine story about American-born children of parents who are deported or self-deport from the United States. They often struggle to acclimate and do poorly in school. I wrote previously about how Mexican universities were preparing for a wave of American-reared students after the Trump administration ended the DACA program.
Like what you're reading here? Subscribe now, and tell a friend.
'We Powered Through'
In last week's newsletter, I mentioned the University of Rhode Island's strategy for boosting foreign-language enrollments by pairing language study with professionally-oriented degrees. How durable had that approach proven during the recession, I wondered, when a record number of foreign-language programs had shut down?
Pretty well, it turns out. Dave Lavallee from Rhode Island reached out to share some new numbers: While foreign-language course enrollments nationally dropped 9 percent between 2013 and 2016, the number of language majors at URI increased 28 percent. Over the past decade, the number of students majoring in modern and classical languages has more than doubled, to 732.
The original interdisciplinary approach was between the engineering and foreign-languages departments, but URI's engineering, business, and computer science programs now offer language tracks in German, French, Spanish, Italian, and Chinese. Textiles and fashion merchandising and design students can study Italian and French, while the International Pharmaceutical Sciences program offers a dual degree in French and the option to do hospital rotations in France. "We have powered through that period," Lavallee wrote, "and continue to build on our numbers."
Not everyone I've heard from loves the idea of emphasizing the vocational benefits of language learning. What other strategies do you think can be effective in encouraging students to study foreign languages? Drop me a line at latitudesnews@gmail.com. You can also find me on Twitter and LinkedIn.

Which colleges grant the most bachelor's degrees in foreign languages? The Chronicle just published this great interactive database on language majors that lets you search by institution. The thing that really jumped out at me: Just how much women outnumbered men in many of these programs.
And finally…
I, too, am studying a foreign language, Chinese, of which I am a diligent but not particularly talented student. A couple of years ago I became close with one of my teachers (or maybe she took pity on me) and she invited me to dinner to celebrate the Spring Festival. Then, the night before the Lunar New Year, the travel ban was abruptly rolled out, and I seriously considered backing out. But I knew that Liyan and her family had put so much time into the meal, finding all the ingredients and carefully preparing the many dishes. I went to her home, ate course after delicious course, and was glad for it – amid all the angst around the travel ban, it was a heartening reminder of the power of connections across country and culture.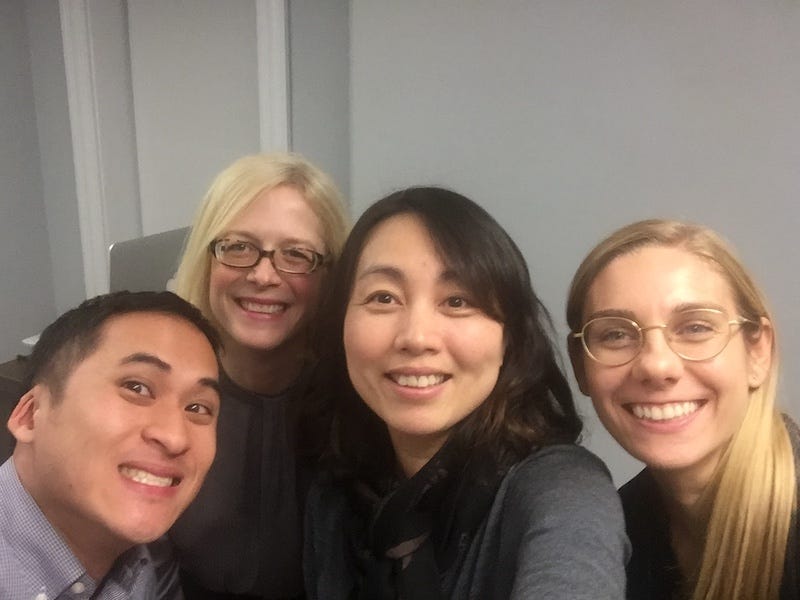 With my lǎoshī and other students…
For the best international education news and analysis, please subscribe to latitude(s). In this startup phase, I'll be making the newsletter free; in the future, I'll ask for a small fee to support quality journalism.